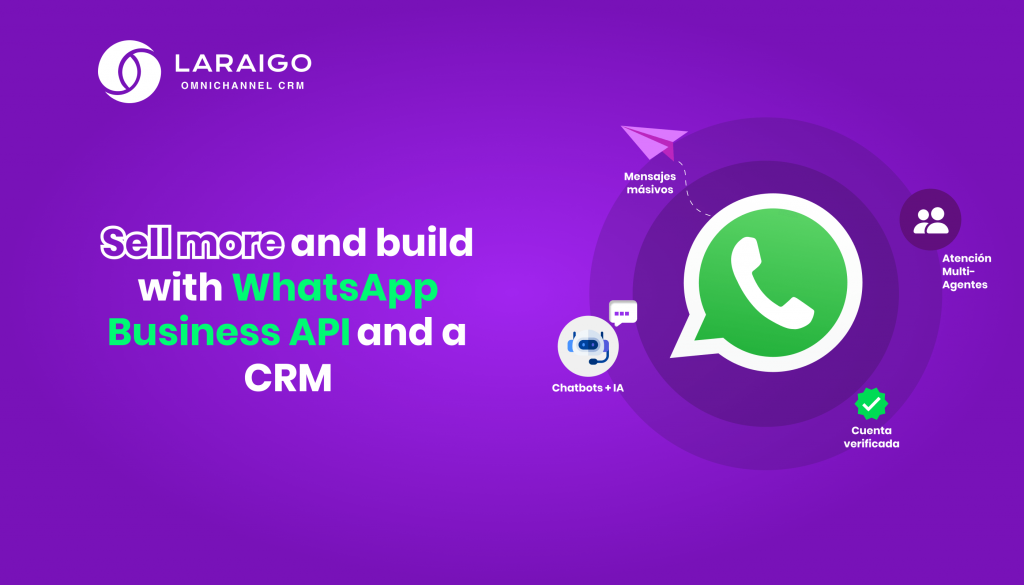 Nowadays, efficient customer management is fundamental for the success of any business. Having tools that allow us to maintain effective and personalized communication with our customers has become a priority. In this sense, the integration of the WhatsApp Business API with a CRM, is presented as an innovative solution that can revolutionize the way we interact with our customers and get better sales opportunities.
What is WhatsApp Business API?
WhatsApp Business API is a specialized version of WhatsApp designed specifically for companies. Through this API, organizations can manage the verification of their official WhatsApp account and use all the functions and features of the platform to improve their customer service.
With WhatsApp Business API, companies can send automated messages by connecting Chatbots with interactive flows and even Artificial Intelligence, send relevant notifications and much more. This allows for more agile and effective communication with customers, which in turn improves the user experience and strengthens the relationship between the company and their customers.
Benefits of WhatsApp Business API and CRM Integration
The integration of WhatsApp Business API with an Omnichannel CRM like Laraigo offers numerous benefits for customer management. Below, we will highlight some of the most important ones:
Multi-agent service by ticket assignment
The integration of WhatsApp Business API with an Omnichannel CRM like Laraigo, allows you to connect your entire sales or customer service team, regardless of the number of agents, with all users who communicate with your brand through WhastApp. The referral of attention can be randomly or assigned by teams through service tickets that you can view in the same Laraigo platform, all online.
By integrating WhatsApp Business API and a CRM, it is possible to automate various tasks related to customer management. For example, automatic welcome messages, order confirmations, appointment reminders and much more can be sent. This saves time and resources and provides a seamless experience for customers.
Massive messages, segmentation and personalization
WhatsApp Business API plus a CRM such as Laraigo, allows you to schedule and send mass messages to a list of customers via WhatsApp, segmenting customers into specific groups based on different criteria, such as interests, purchase behavior, location, among others. This facilitates the personalization of messages and promotions, which increases the relevance of your campaigns and improves open, response and conversion rates.
Recording and tracking conversations
Thanks to the integration of WhatsApp Business API with an Omnichannel CRM such as Laraigo, it is possible to record and track all customer leads and conversions. This provides a comprehensive view of the history of all their interactions with your brand, enabling sales and customer service teams to provide a more complete and personalized service.
WhatsApp Business API and CRM integration is a powerful strategy to improve customer management. By leveraging WhatsApp's capabilities and combining them with a robust CRM like Laraigo, businesses can provide exceptional, personalized and efficient service to their customers.
If you are interested in starting to take advantage of all the benefits that WhatsApp Business API integrated with an Omnichannel CRM like Laraigo can offer you, contact us so that one of our specialists can guide you with everything you need to start managing your customers better through this channel.